Part 1:

Pre Eclipse Travel

My 23rd Solar Eclipse Expedition 

My 16th Total Eclipse of the Sun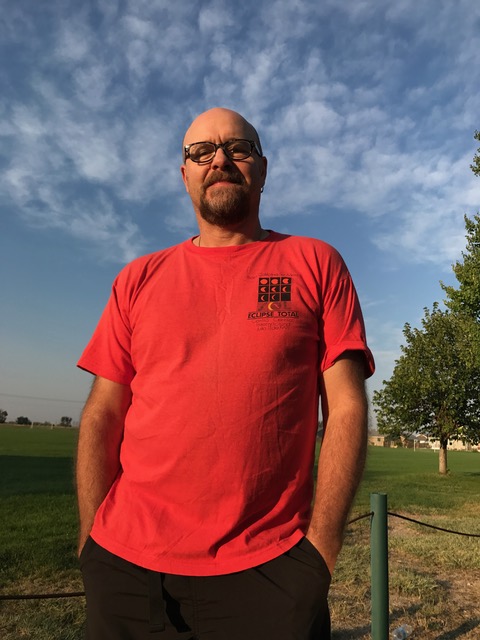 eclipseguy in Riverton, Wyoming – August 21, 2017.
Photo: Anita Ruthling Klaussen
This was a big eclipse for me! We started planning in 2012 with the first of many Eclipse Planning Workshops that brought together experts from around the world.  Over the next five years, plans both big and small took shape.  I made another film (Still Hooked) – got lots of attention from the media – and hosted a bunch of friends who had never seen an eclipse before on a trip to Wyoming.  When I look back at it now, it was one of the most ambitious projects of my life.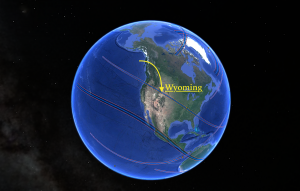 Every eclipse expedition is a once-in-a-lifetime experience and this was no exception.  And it was a dream come true for me as I had always wanted to see America in an RV. For the summer of 2017, I convinced my long-time camping companions Suzanne Jarvie and Jamie Alden to forgo our well-trodden territory in northern Ontario, Canada, in favour of a more ambitious outing:  my sixteenth total eclipse – and their first.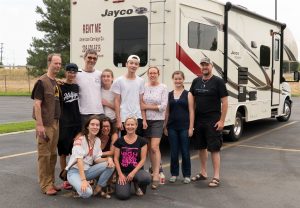 Campers turned eclipse chasers!
L to R top: Mark Overbury, Hartley Overbury, Jamie Alden, Claire Alden, Avery Alden, Suzanne Jarvie, Madison Overbury, eclipseguy, L to R bottom: Sara Jarvie Clark, Lisa Freeman, Amanda Worley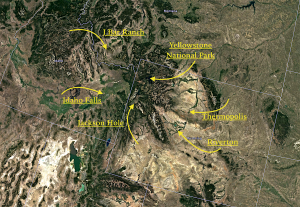 Over the two week trek we explored Idaho Falls – made the drive up to Yellowstone National Park – came through Wyoming to Thermopolis and the stunning Boysen State Park.  Our home base for the eclipse was the welcoming city of Riverton – and we passed through the Grand Teton Mountains  and Jackson Hole before spending four luxurious days on a remote ranch in southern Montana.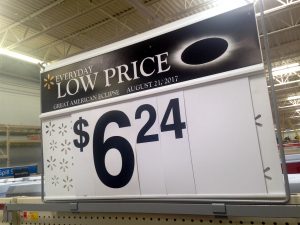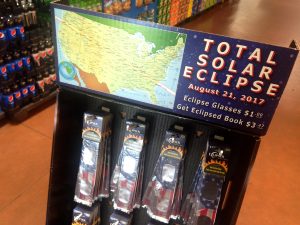 The Walmart in Idaho Falls was eclipse central!  Never seen so much retail for an eclipse before.  It's as if they knew we were coming.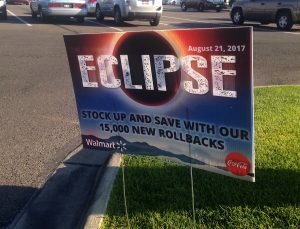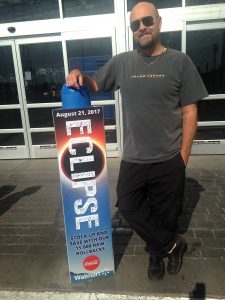 Thought twice about taking one of these home!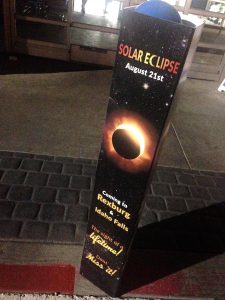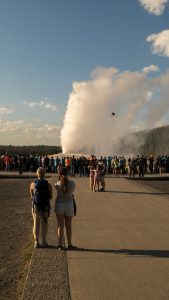 Classic Yellowstone.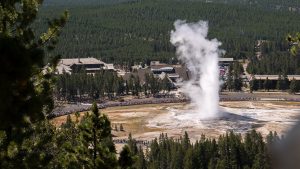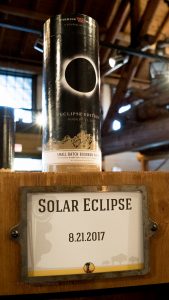 Got it.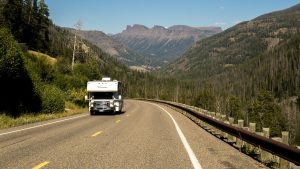 Wyoming is RV country.  Getting used to operating one of these things took a few days! I loved every second of it.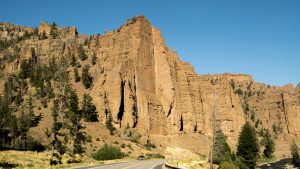 Rugged landscapes daily.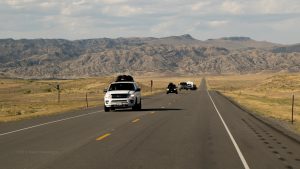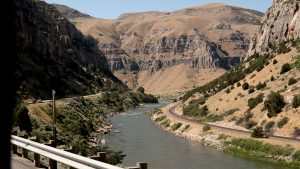 The stunning drive through the  Wind River Valley between Thermopolis and Riverton.
My co-pilot Mark Overbuy trying not to burn down the RV park.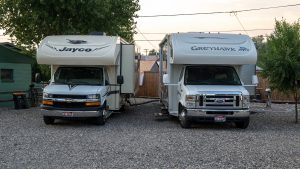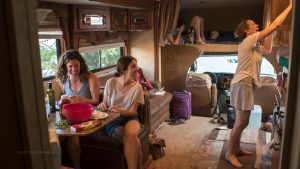 We all get along amazingly well because we've camped together for years. 
---
Part 2:

Riverton and the Eclipse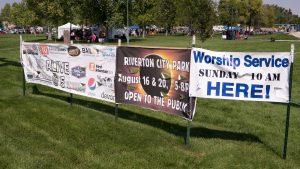 Riverton was one of hundreds of cities in America who made extensive plans to accommodate eclipse watchers.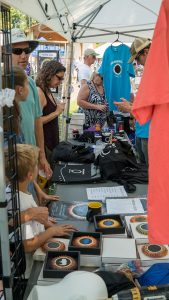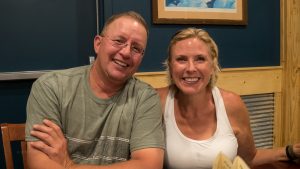 Rusty Roemmich and Roni Gregory Roemmich
From the very beginning of my eclipse adventures, I discovered the benefits of making friends with local residents who are excited about the eclipse. The dynamics of eclipse chasing can turn on you in an instant, but if you can maneuver like a local, almost any problem can be solved.
I met Rusty Roemmich online when he found my website and discovered I was coming to his home town for the eclipse. He offered to assist in any way he could and as it turned out, his help made all the difference to our team. Rusty and Roni treated us like family and they got us out of the clouds and into the shadow of the Moon in spectacular style. New friends rock!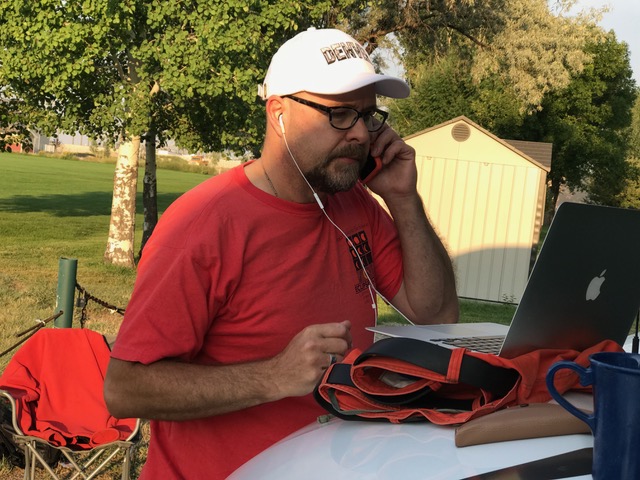 6am preparations for a day of live media.
On eclipse day I was up early to do multiple live interviews with the media. On the hood of the RV!  It was actually madness in the days before the eclipse trying to schedule live interviews with everything else that was going on. Next time, I need a manager!  Terrific fun to get all this attention for my favourite thing in the world.
Watch my live interview on CNN.
Watch my favourite interview from eclipse day on CBC!
We were supposed to see the eclipse from this soccer field but it wasn't meant to be.  We were tracking high level cloud on the radar and it didn't look good for us. At this point I had about 20 first-time eclipse chasers looking to me to delivery a total eclipse and I was getting nervous.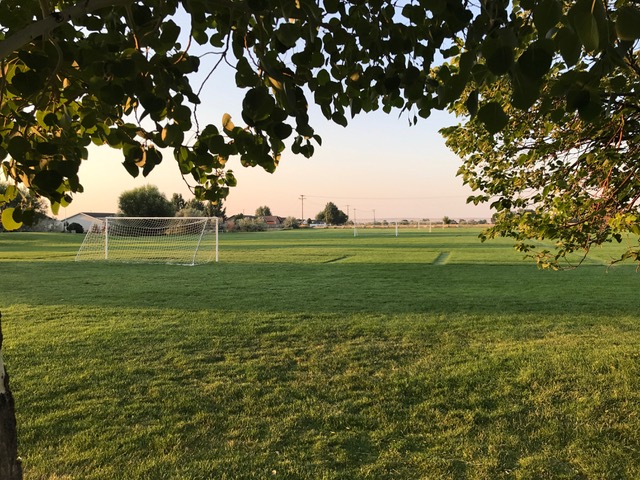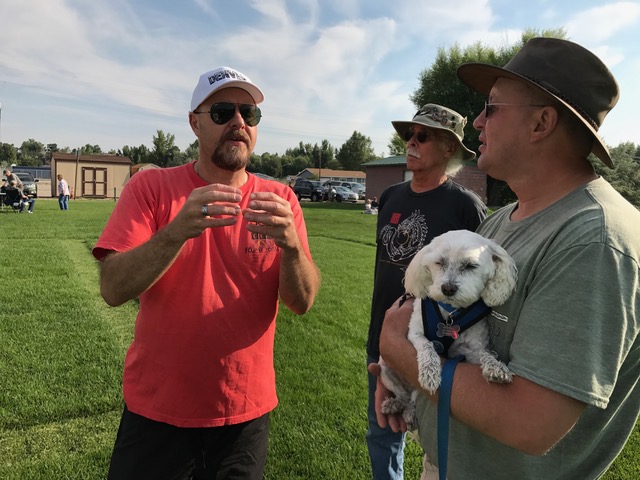 To run or not to run? Assessing our chances.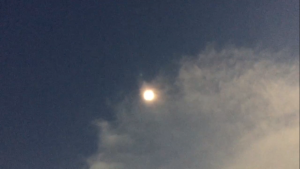 This is the view of the eclipse from the soccer field taken by a local who stayed put!  We made the right choice to run.
We drove frantically about 25 miles east – out into the plains – trying to find a location to set up. Rusty Roemmich showed us the way along Highway 136 to an abandoned corral, just off the side of the road.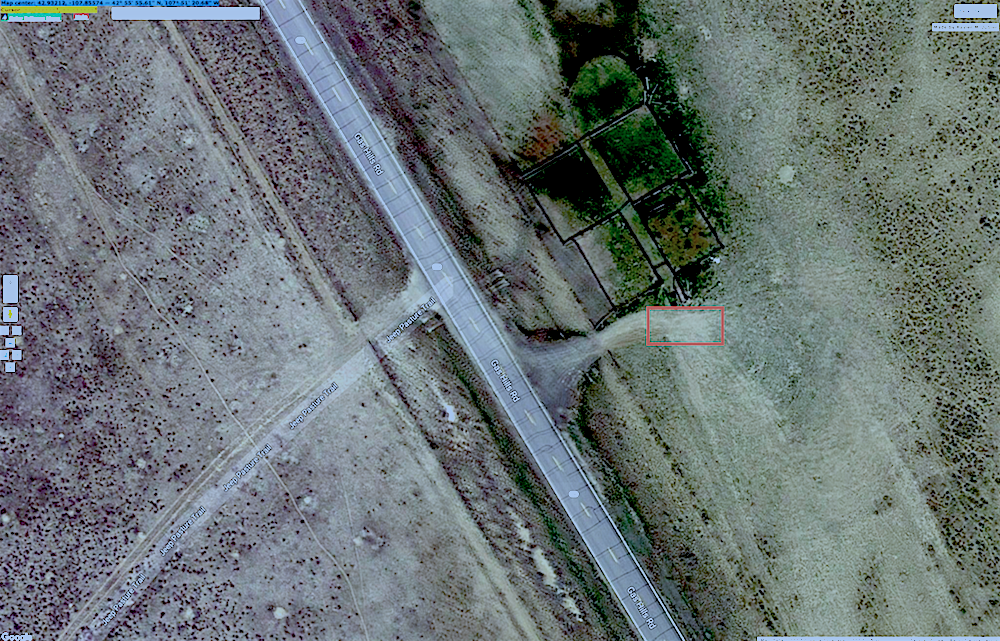 We arrived at this location with the partial eclipse already underway. It was a tense set-up for me – something I don't like.  And the sky wasn't completely clear, but we couldn't risk driving any further.  I had so little time before totality that I took no photographs of the scene at all.  I am grateful to Anita Ruthling Klaussen for doing such a great job of capturing the moment and offering many of these pictures.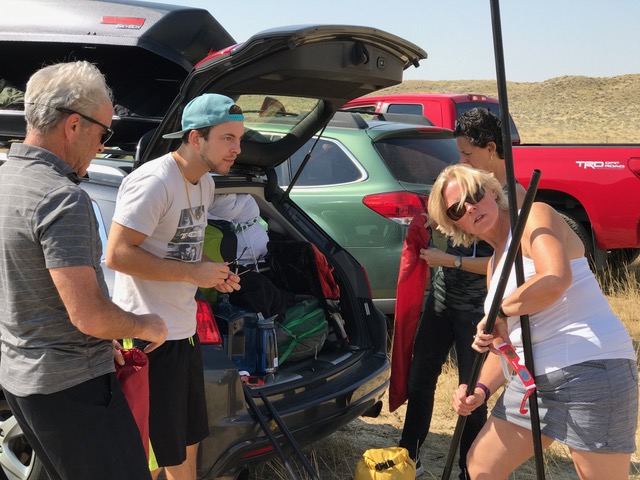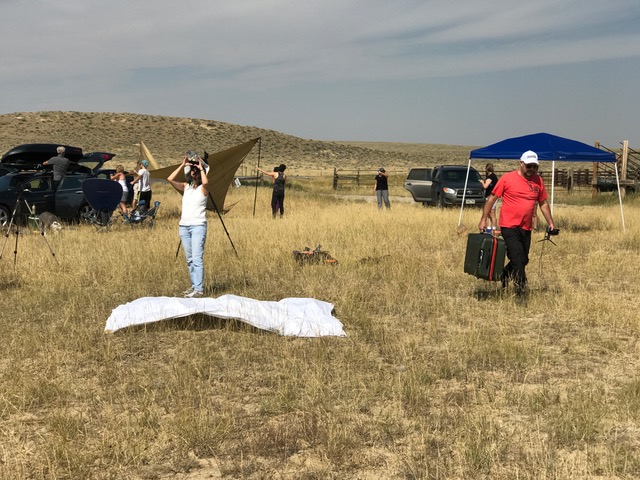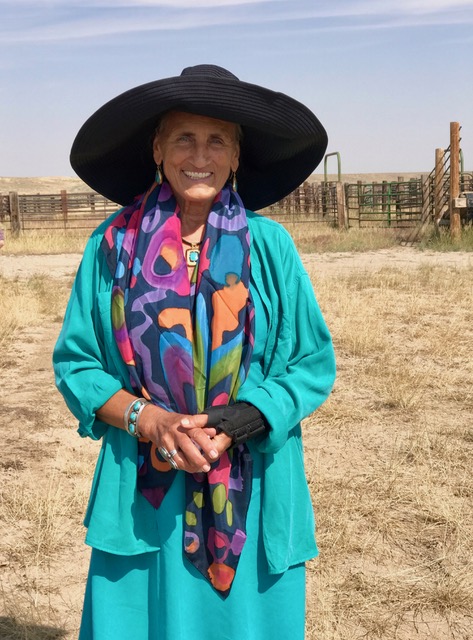 Anita Ruthling Klaussen
Anita's first total eclipse! We met in the High Arctic in 2016 and I convinced her to make the journey to Wyoming. You are enjoying much of her great photography in this Report!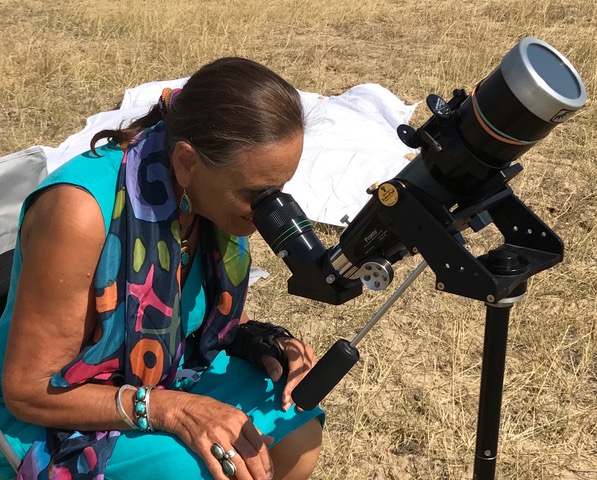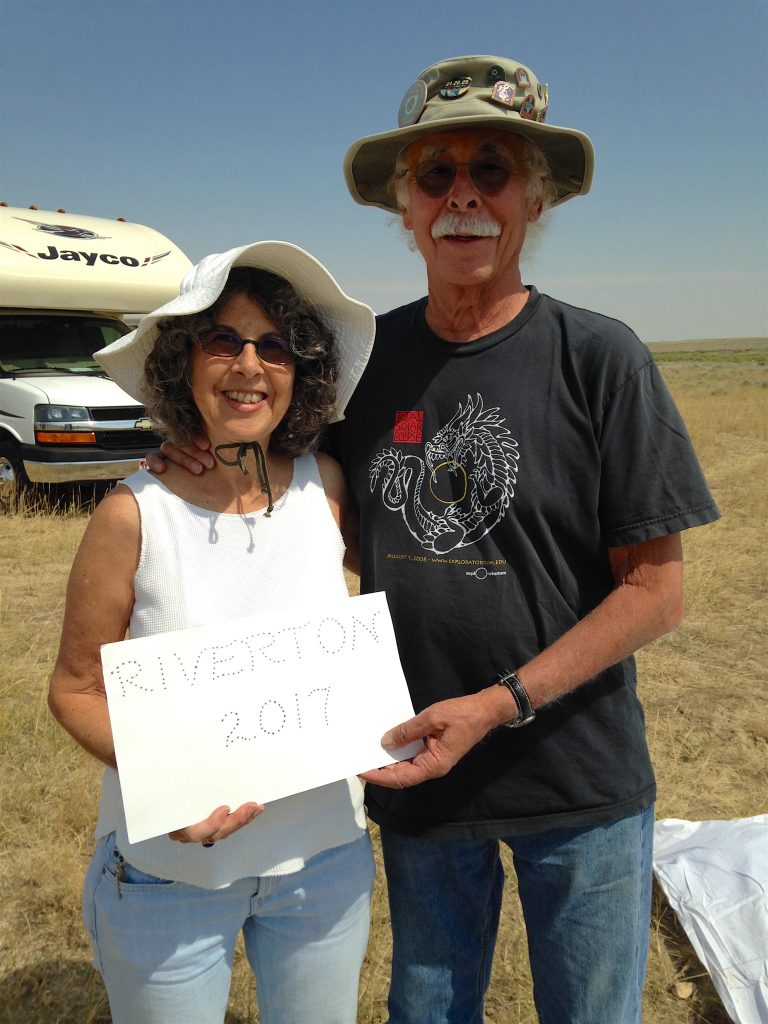 I am also joined by my great friends and veteran eclipse chasers Lynn Holden and Louie Zand.  We haven't seen each other since the eclipse in China in 2008!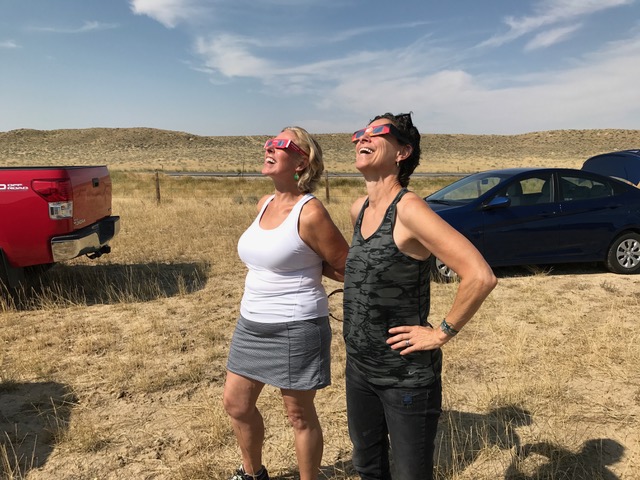 Roni Gregory Roemmich and Patti Gilford enjoying the deep partial phases!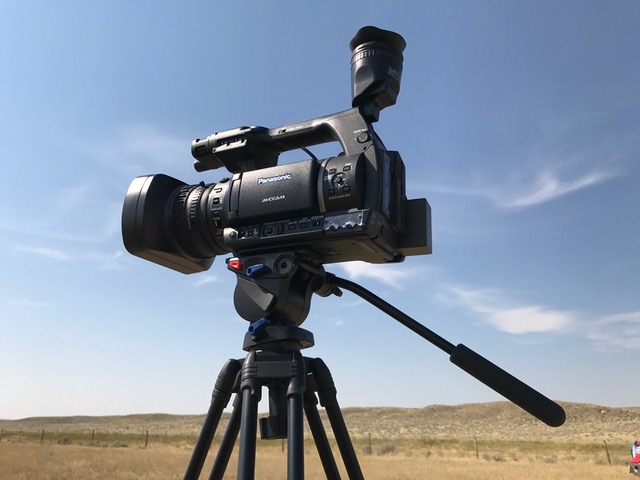 I bought this camera especially for eclipse chasing because the lens is ideal for corona shots.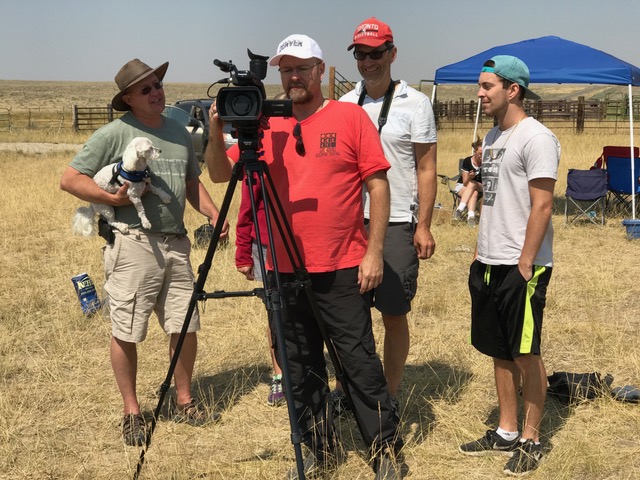 Six cameras in place – only just in time.
NASA GOES satellite captures the Moon's shadow racing across the country.
Watch this wide-field video of our all-too-brief encounter with totality!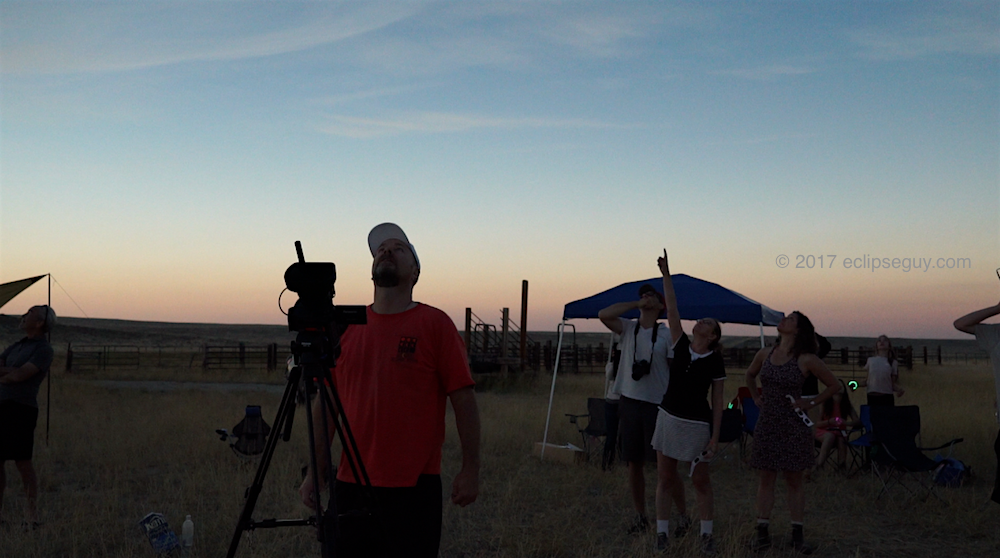 For most at this site, it's their first few seconds inside the shadow of the Moon.
These are just a glimpse of what my video cameras saw that morning.  I'm still in the process of putting some kind of short film together.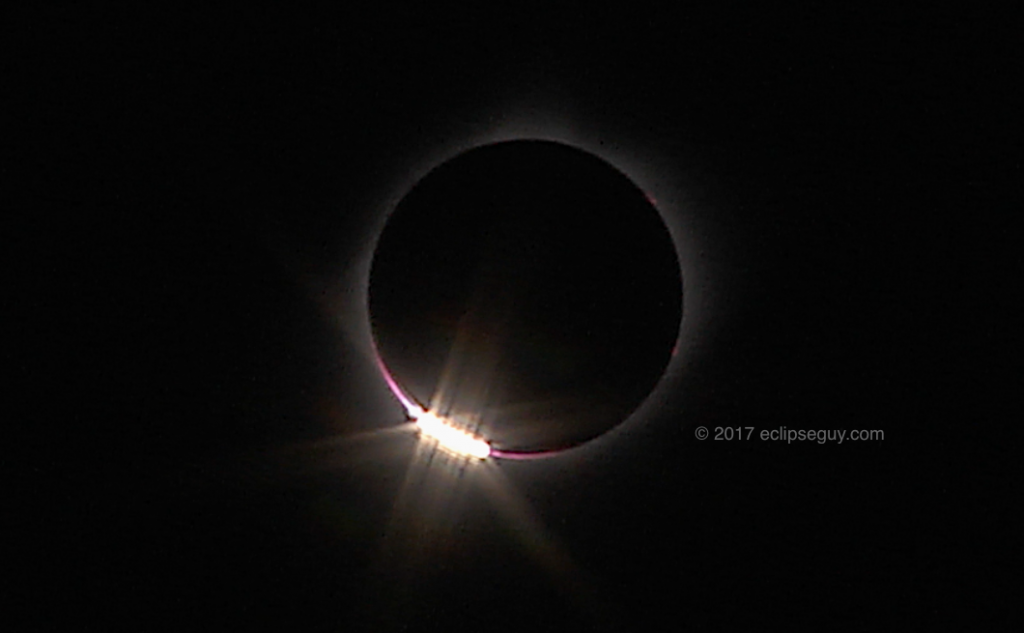 The Diamond Ring effect signals the end of the partial eclipse and the beginning of totality.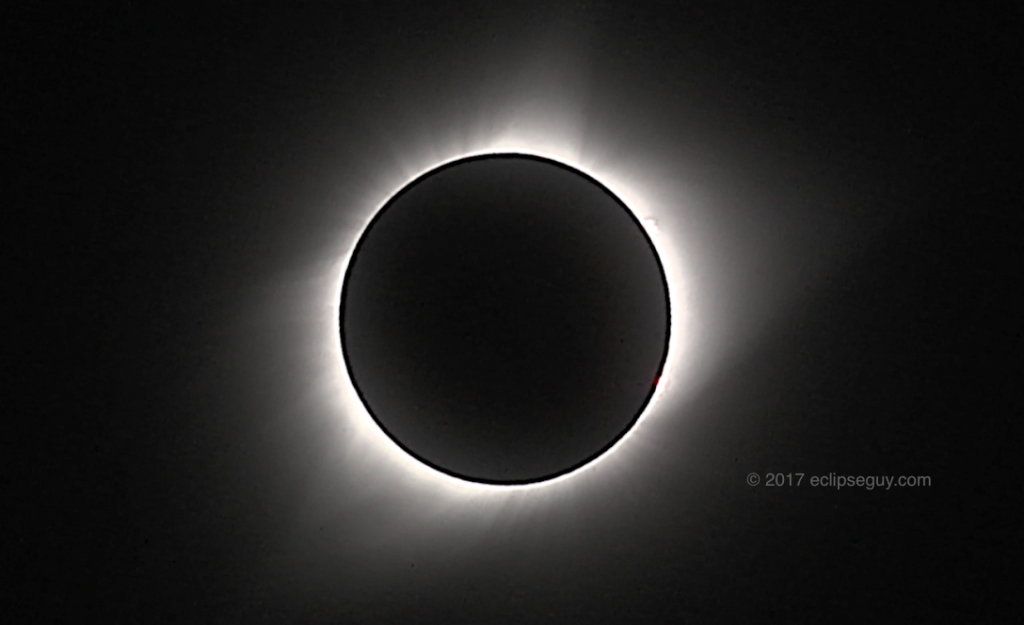 No picture can do it justice! This was one of the most enjoyable displays of the corona ever.  Incredible structure.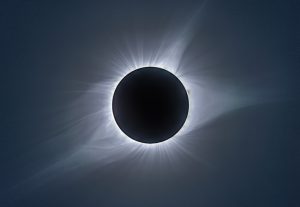 Terrific image from Shigemi Numazawa.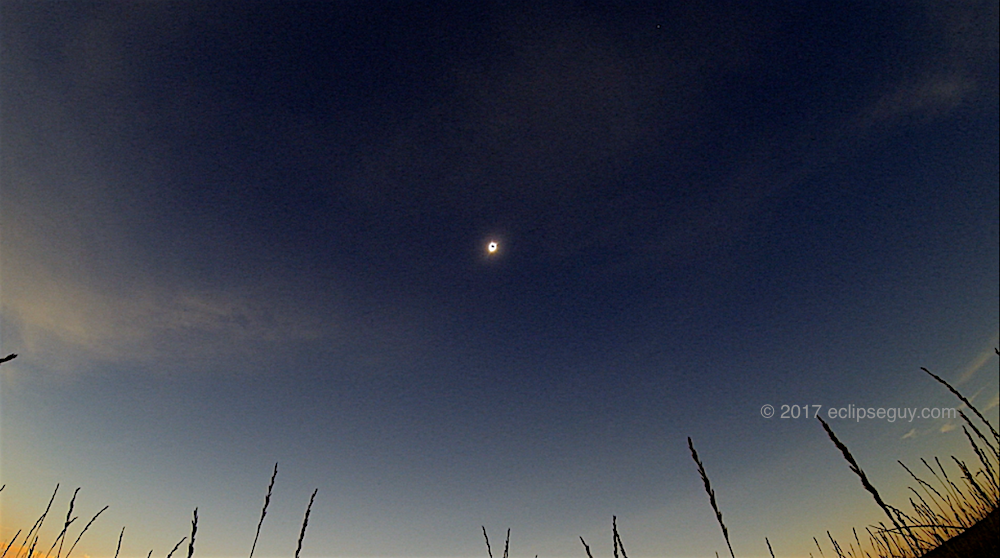 Worth 5 years of planning? A fleeting 135 seconds inside the shadow of the Moon.
Watch my post-eclipse interview with CTV!
---
Part 3:

Post Eclipse Travel

I highly recommend the drive through the Grand Tetons to Jackson Hole!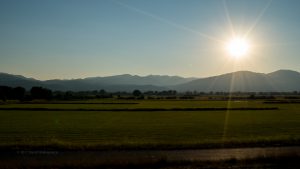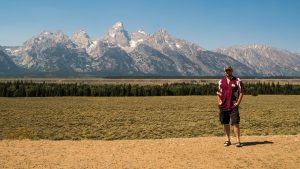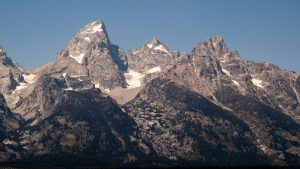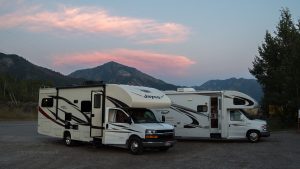 Soon it was time to leave the RVs behind and head up into Montana for a few days at the remote J Bar Ranch.
The Ranch is located in the Centennial Valley which defines the notion of big country.  The remote ranching valley is one of the most important corridors for wildlife migration in the western USA and looks very much as it did a century ago. The population in this vast region is usually fewer than 100. After the intensity and the excitement of the eclipse and all the highway driving, the majestic stillness of this place was just what the doctor ordered.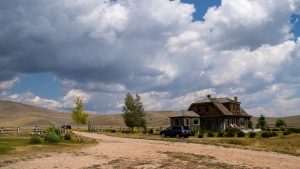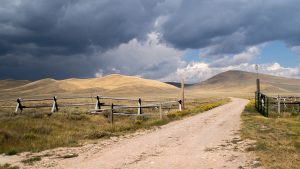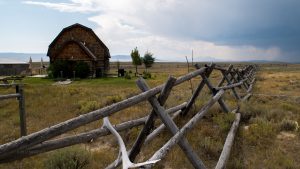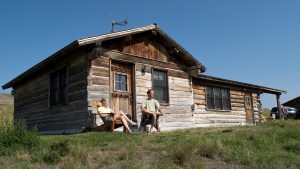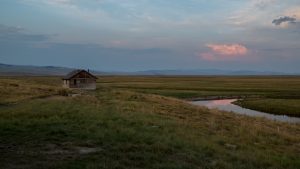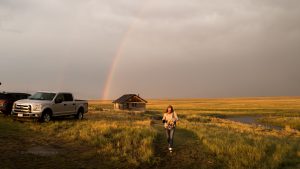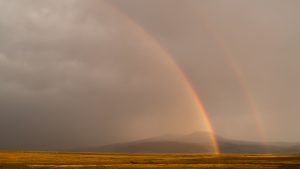 I could have spent another week here.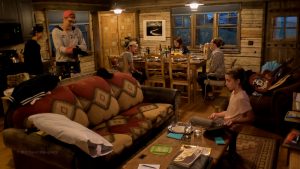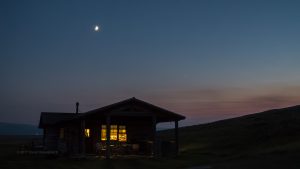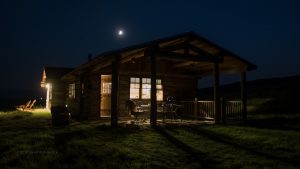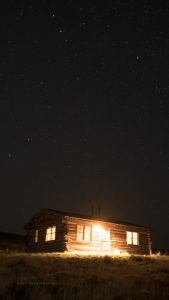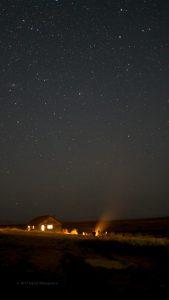 There's nothing I love better than an exotic location, some good friends and a never-ending sky at night. To me, eclipse chasing is living. My life has been more exciting and rewarding than I could have possibly imagined when I got hooked all those years ago – and there's no end in sight.
When is the next total solar eclipse? 
---