Update 2017.
Here is the film that came out of the eclipse chase to Indonesia in March 2016.

STILL HOOKED from eclipseguy on Vimeo.
---
March 2016
Here is a quick, raw video from the eclipse on March 9!  And read the blog below for more …
Cosmic Spectacle from eclipseguy on Vimeo.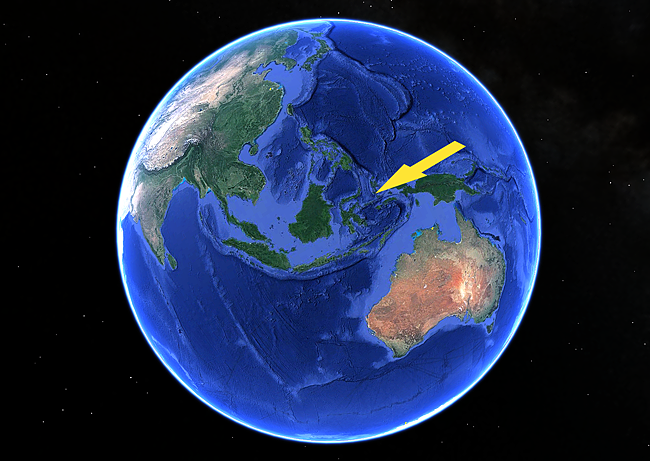 March 22
I am in Bangkok now.  Spent the last few days in Ao Nang in Krabi – another gorgeous coastline of fantastical rock formations and endless surf.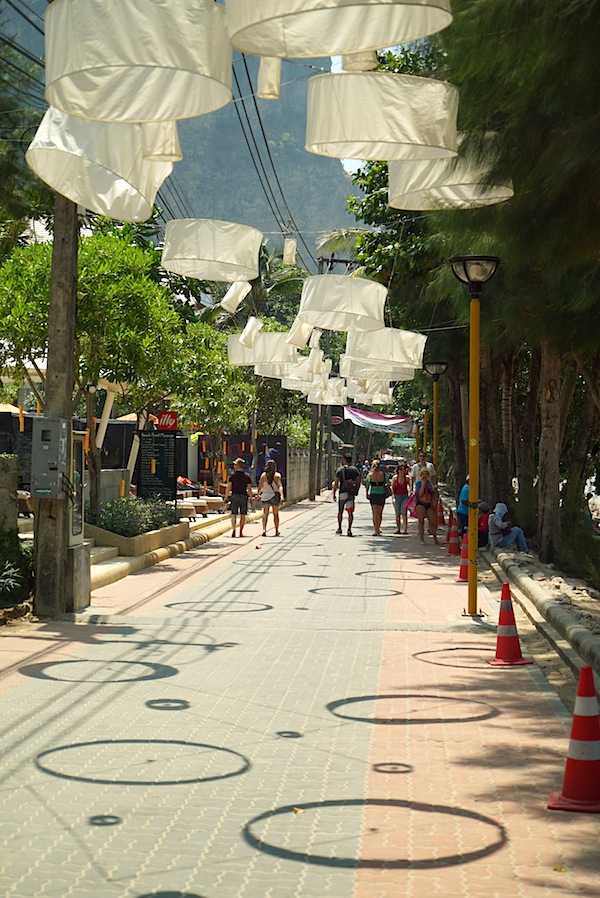 Ao Nang is a very pretty little village with miles of beach-side resorts, great food and hundreds of Thai longboats just waiting to take you away for the day. I love scooting around the islands in these things!  So great!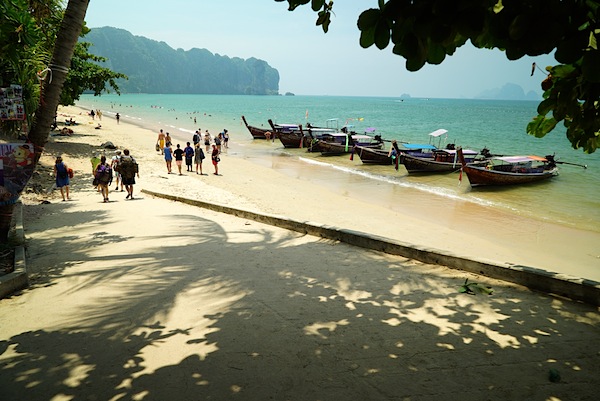 And this place is HOT.  We're talking sweltering.  It's almost hard to move around mid-day. Replace those electrolytes or beware!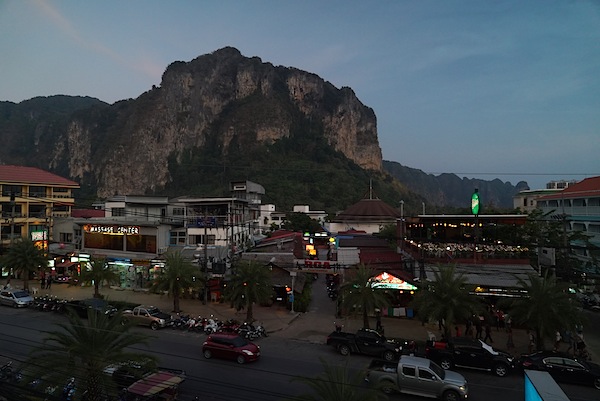 Nightfall from my hotel deck on March 21.  An hour later, I had fantastic pad thai on that restaurant patio under the green sign before catching a set of local live music downstairs.
Back home in Toronto March 23!
---
March 19
The Phi Phi Islands!  Land of big sky, soft sand and changing tides. And some of the best snorkelling in the world! The Thai long boats-for-hire will take you to any cove, lagoon or secluded beach you care to visit. And there are a lot of them around here.  A terrific way to spend a few days after seeing Nature's grandest spectacle.  Just a few snaps: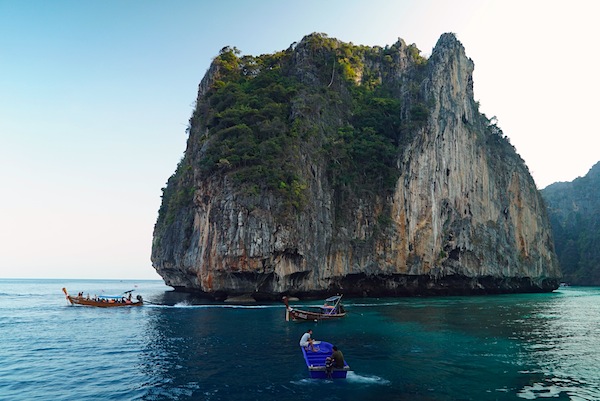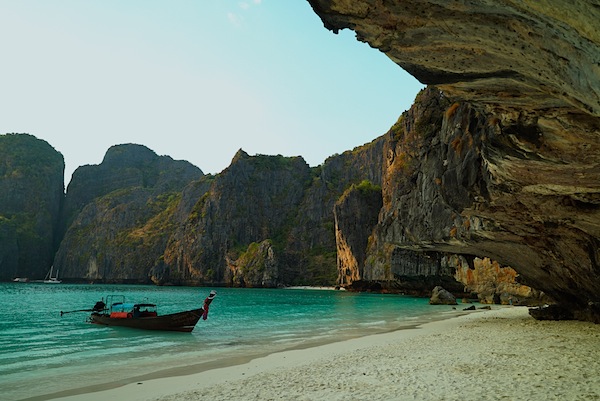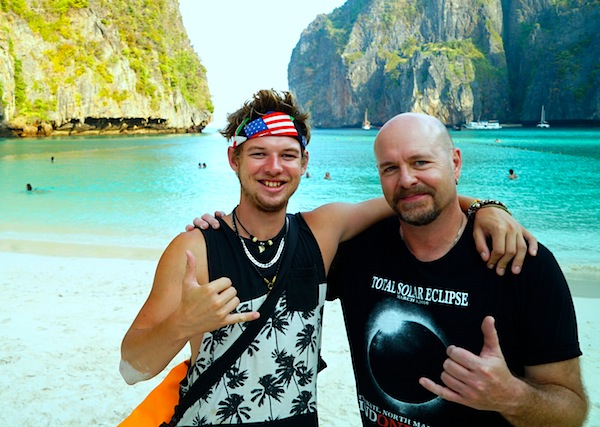 Yuri was our host for the most excellent overnight trip to Maya Bay. I look ok for a guy who slept on the roof of a boat staring up at the stars!
Lukas and I are in Railay now for a few days.  Flying back to Bangkok on the 22nd – then on to Hong Kong … and home.
Travelling in the 3rd world is really amazing and really tough at the same time.  I feel like I have been away for months!  I am really looking forward to starting work on all the film and video images I have acquired of the eclipse and everything else I've seen.
---
March 16
Hot and humid – just the way the equator is supposed to be. 42 degrees in the shade! Here are a few quick snaps from my first few days in the Phi Phi Islands.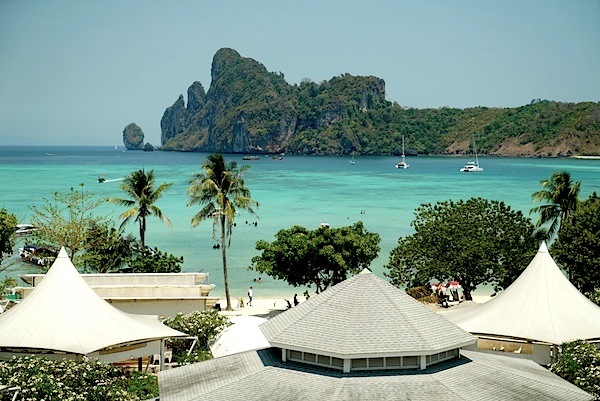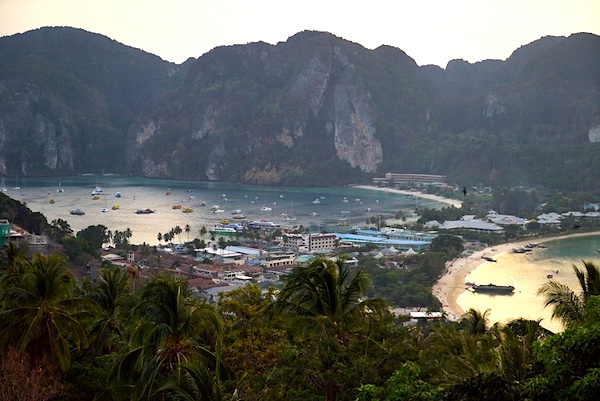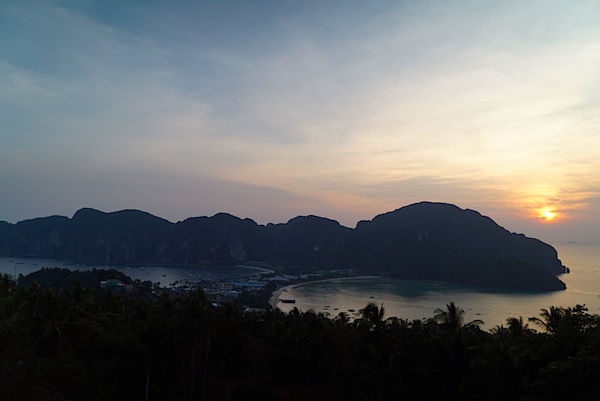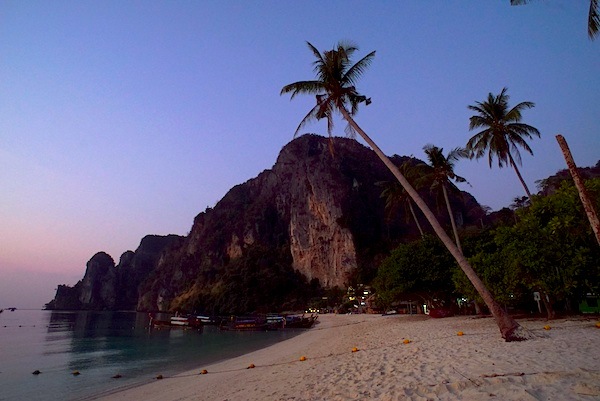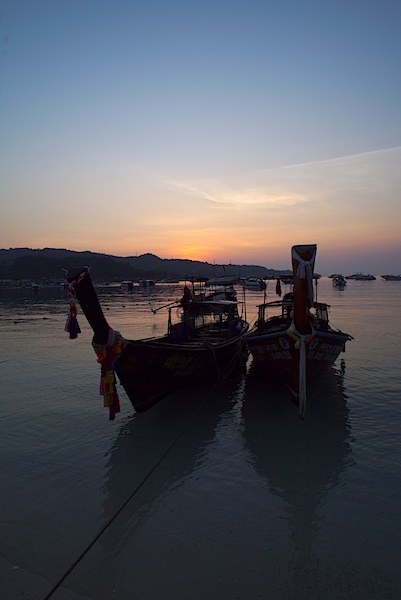 ---
March 14
Just checked into my hotel in the Phi Phi Islands in Thailand …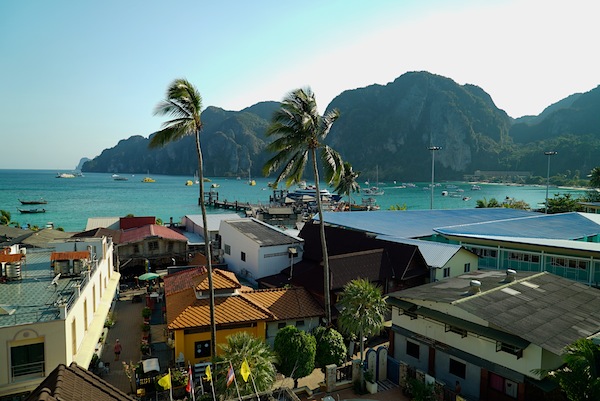 … in time to go for a stroll around the island at sunset and low tide …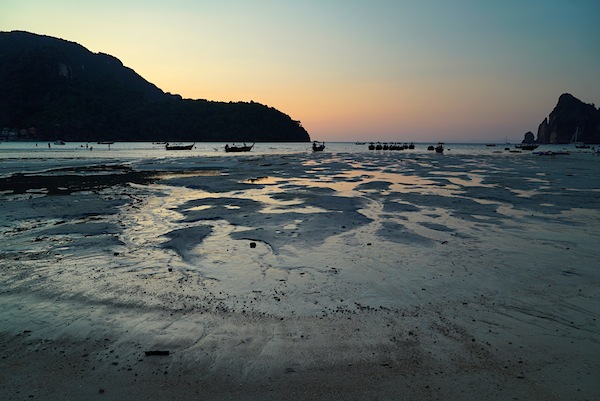 We are here for 5 nights!
---
March 12
One of my eclipse images makes the front page gallery at Space Weather dot com!
Update:
The dark shadow of the Moon is responsible for solar eclipses – watch this monstrous black blotch march its way across the Earth as seen from NASA's Deep Space Climate Observatory (DSCOVR) on March 9.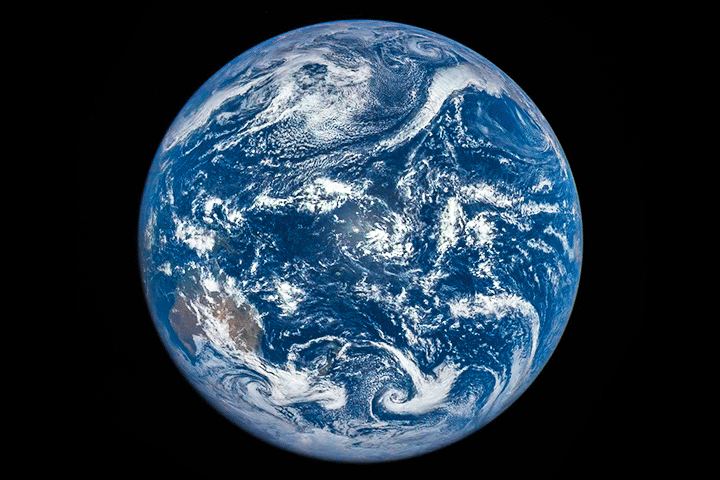 ---
March 11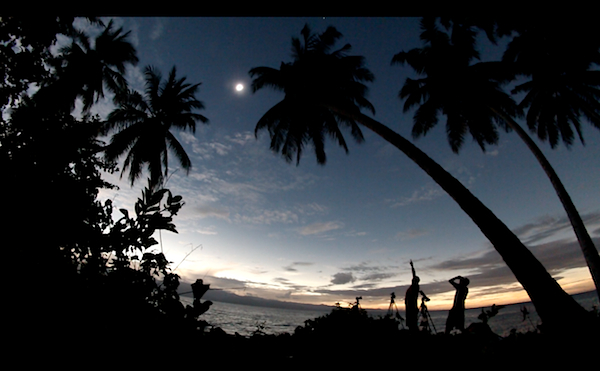 ---
Stunning Success on Tidore Island!  The shadow of the Moon arrives in Indonesia!!!
Overwhelmed and overjoyed with what we saw in the sky on this tiny volcanic island on March 9 as my 22nd solar eclipse arrived in majestic fashion in a perfect setting under perfect conditions. Now in Thailand, I am still on a cosmic high.
The weather drama continued the night before with downpours until dawn.  Our overnight on the beach never happened as we were invited into a local home for dinner and lodging and an impromptu celebration with the community of Soadara.  By daybreak, the clouds were disappearing and we set up our equipment in clearing skies. By the time the Moon started to take a bite out of the sun, a crowd of several hundred onlookers had gathered to watch with us.  My dream of shooting a total eclipse with palm trees was coming true – but nothing like I had expected.
The corona was exquisite.  The colours in the sky were stunning and the appearance of  Venus and Mercury was just a bonus!  In such a magical moment as this, I let the cameras run by themselves and I basked in the glory of Nature's most spectacular sight.  I really watched this one!
These images are just fast grabs from the video files – unprocessed. The final short film will be unique without question.
There are no words!  And I won't be coming down for a while.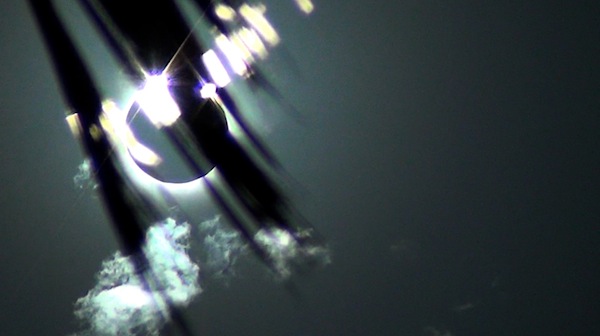 In the first few seconds following totality, the Sun's new light is scattered by swaying palm leaves that modulate the bright Diamond Ring effect, allowing us to see the eclipse for a few more precious moments.  I have never seen this effect before!
I will try to blog periodically from Thailand but won't be spending much time at this laptop I can assure you!
The universe rocks!
---
March 7
As is usually the case when eclipse chasing, the last 24 to 36 hours brings a good amount of weather drama.  And we certainly have that now.  We always knew our chances of clear skies for the eclipse was about 60% – but it seems to have dropped a bit!  Nothing too ominous, mind you, but enough of a shift in the pattern to be of concern.  The big international weather forecasters are predicting some clouds and precipitation around eclipse time – but the locals disagree.  Ternate and Tidore are such tiny islands … can't we slip in between the clouds???  Just this once?  Please??
Ternate kicked off it's big eclipse festivities today with a ceremony in the town square complete with all the traditional pomp and circumstance you would expect.  Brilliant!  And scorching hot again! In attendance was the king of Tidore Island and his rather large entourage.  As foreigners, we continue to demand an almost unsettling amount of attention from the locals – posing for photo ops – getting smiles and stares – and looks of wonder from the children.  Military guards cleared a path for us at the ceremony today so we could be front and centre for the show and even provided chairs for us!  No one else got this kind of treatment!  I felt a bit disrespectful when I had to leave abruptly before the end because the sun was beating down upon my poor white body and I could not take another minute of it.  Two assistants with big white umbrellas would have been nice.  Only the King of Tidore got that treatment.
Wish us luck!  We leave for our observing site on Tidore on March 8 around 4pm, and plan to stay overnight at our location.  The locals there are awesome, and we should have a wonderful chance to get shots of the Milky Way overnight if the clouds stay away.  Then, at 9:50am the next morning we will know our eclipse fate.  Will do my best to post some kind of update when we return to Ternate in the early afternoon.  Hopefully wearing that unmistakable post-eclipse glow!!
---
March 6
Today was all about location scouting.  Since the eclipse lasts about 25 seconds longer from the adjacent island of Tidore, we have decided to observe from there. It is easy to get back and forth between the two volcanos, so we hired a guy with a speed boat to take us across.
 Arriving on the island of Tidore.
A car and driver is about $40 for the day, and we have one of the students from yesterday with us as a guide and interpreter as we drive the perimeter of the island looking for perfect observing spots.  We couldn't do it without him!
As we move around Tidore, it's obvious that the eclipse is a pretty big deal!  There are dozens of signs like this on both islands.
We are exploring a chain of volcanic islands in the Maluku Sea.  From Tidore, this is the view across the water to Mare. We snorkeled in this water yesterday … so nice!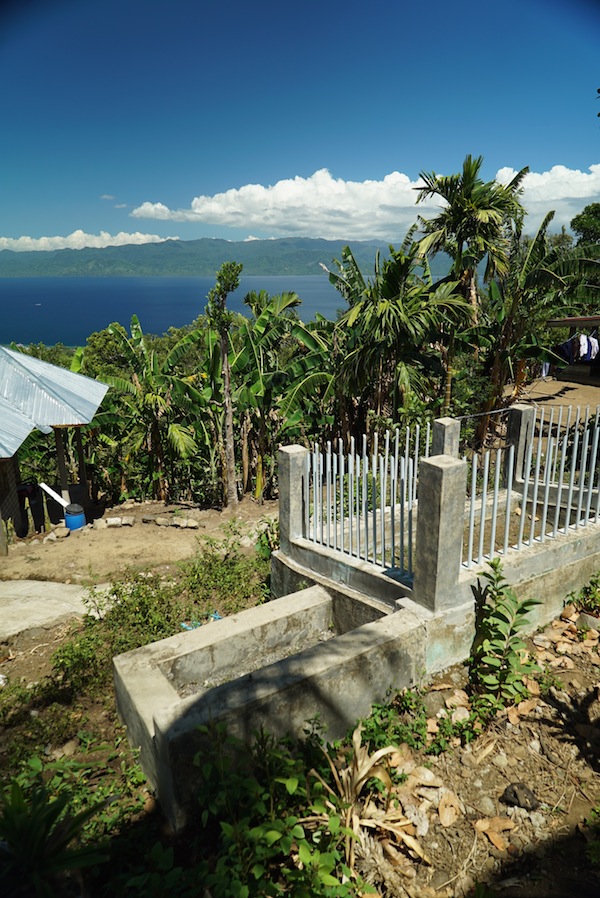 We are driving for hours through tiny hamlets and villages in scorching heat and sun. Great place for a total eclipse!  But quite a shock to the system coming straight from Canada.  The picture above is from a location we scouted about half way up the volcano cone – looking east (to the eclipse sky) and the big island of Halmahera.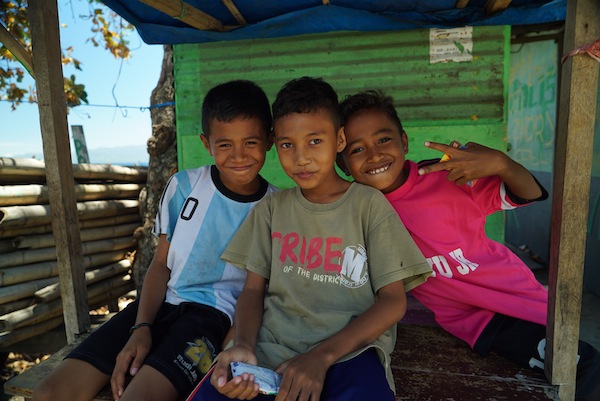 There are kids everywhere!  So adorable!  They stare at me as if they have never seen foreign man before.  Most haven't.  I keep being asked to pose for pictures with the local people. It is a bit odd feeling like a celebrity.
Lunch is crispy, spiced rice and a whole BBQ'd white fish.  Delicious!  Total cost about $4 each.
After looking high and low around Tidore for an observing spot, we pick a small sandy beach behind the shop on the right.
My eclipse chasing buddy Lukas checks out the angles from our chosen location. I want those palm trees in my eclipse shot!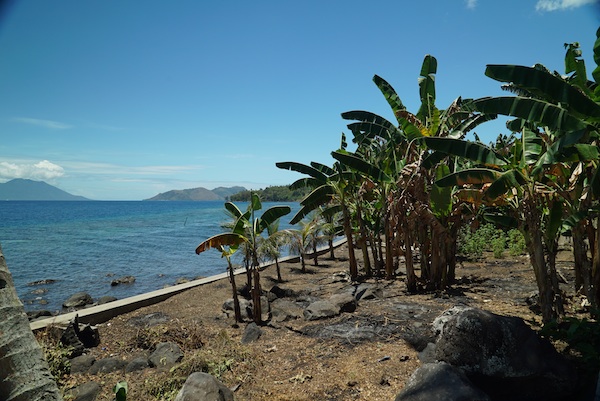 If all goes according to plan, the shadow of the Moon will race towards us from the ocean and plunge us all into darkness for 3 minutes and 10 seconds on Wednesday.
---
March 5
For a tiny volcanic island hidden away in the Indonesia archipelago, Ternate is a bustling town!  Over 200,000 people live here and it seems they all own motorcycles and scooters!  The only way to go!
We drove around the island this morning hosted by a group of young tour guides-in-training and they practiced on us!  They were very knowledgeable, polite, and spoke great English.  A great morning and a great welcome to the island.
Eclipse chasers, scientists and tourists are pouring into the island now for the eclipse.  And since Ternate does not get many foreign visitors, the locals are incredibly intrigued by us all!  I've posed for more pictures with strangers than on any other trip – and I've only been here a day!  And it seems all the students have been assigned a project to interview at least one foreigner about their stay here.  The kids are adorable!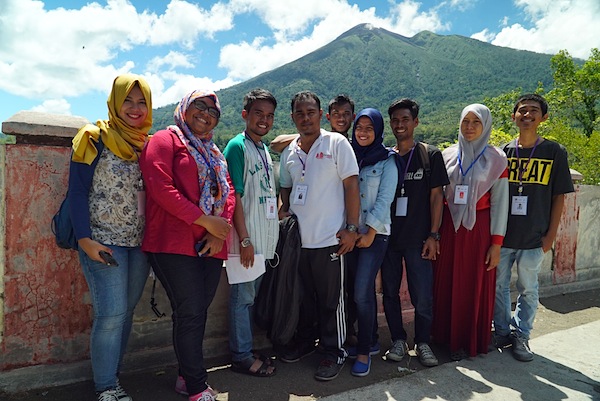 The food is fabulous, the island could not be more beautiful, the presence of the steaming volcano is a constant source of amazement for me – and the weather looks perfect for the morning eclipse on March 8 (March 9 down here).  Fingers crossed!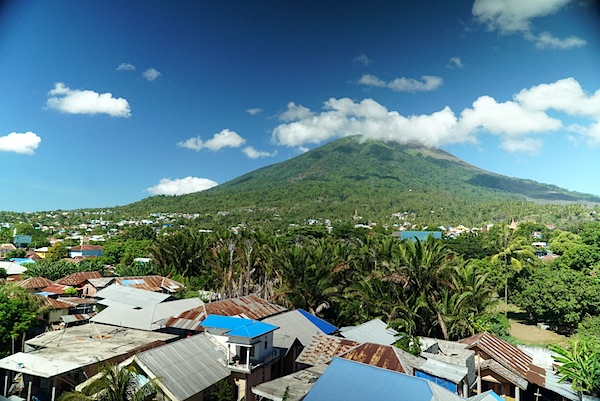 The Ternate Volcano cone, a line of palms, and lava from last time.
I love the eclipse swag!  Hope they have my size …
This is a beautiful island – unlike any I have visited before.
We have a boat reserved for tomorrow.  We're looking at observing sites for the eclipse along the string of volcanic islands in the eclipse path.  A great location would be photographically ideal with the longest eclipse duration possible.  Will try to post pix if I can.
When I booked Ternate a long time ago I neglected to realize that Muslim countries have no alcohol!  Yikes!  We found a beer tonight, but it wasn't easy.
If the eclipse had taken place today the weather conditions would have been perfect.
Four days to go.
---
March 3, 2016
I arrived in Jakarta last night after a crazy 30-hour journey from Hong Kong and Toronto.  Awoke to the news that another earthquake has hit nearby.  Not unusual for this region of the world – so not going to worry about it.  I got caught in the 1999 earthquake in Istanbul where there were 16,000 fatalities and I still got out alive. I expect the same in Indonesia!  I'll need more than just the eclipse gods on my side this time.
In 24 hours I will be in the air again en route to my eclipse observing site on the island of Ternate in the North Malukus.  Will update this blog as often as I can including pix and video of the eclipse –  if we see it!  Fingers crossed!
The moment of the approaching New Moon is when the eclipse occurs – March 8 for Europe and the Americas – March 9 for SE Asia and Australia.
Update:  I am now getting lots of emails and messages about the earthquake on March 2.  The epicentre was more than two thousands miles from our eclipse observing site in North Maluku.  The most active region is along the west coast of Sumatra – the source of the Boxing Day Tsumani in 2004.  We should be safely out of harm's way in this quiet island chain.  Volcanic eruption??  That's another story.