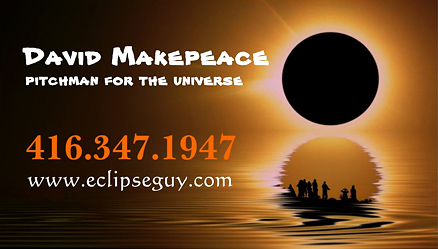 Since delivering my presentation at the Toronto TEDx Convention, I have been asked to speak at all kinds of meetings and on expeditions about our place in the universe – talking about what I have learned from two decades of eclipse chasing.  From this, my alter ego as "The Pitchman For The Universe" has taken shape.  Don't get me started!  In 2017, I am looking for opportunities to present my talk "Partnering With The Universe."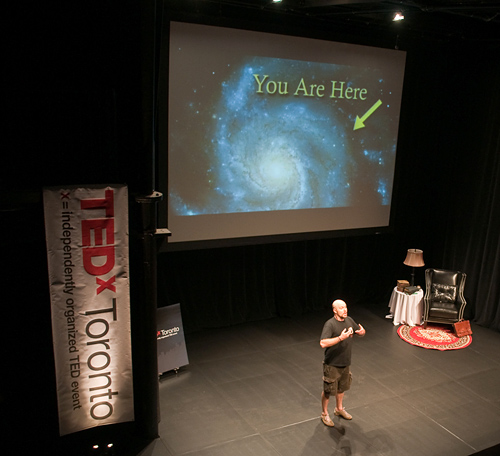 Nuggets from the talk can be found on my blog on this site. Below, you can view my TEDx video  – as well as a video primer for my talk – and download the flyer in pdf format here.
To inquire about booking The Pitchman For The Universe, leave a comment at the bottom of this page, or contact me here.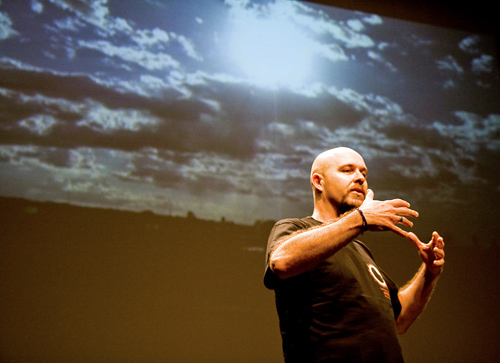 Partnering With The Universe
For 26 years, David Makepeace has travelled the world to witness Total Solar Eclipses – a natural phenomenon that has been called the most spectacular event you can witness from Earth.
"When the shadow of the Moon sweeps over us, we are brought into direct contact with a tangible presence that is awe-inspiring.  That there is a powerful relationship between us and the immense forces of the universe becomes undeniable."
What possible relationship could you have to the universe?  How could it make a difference in your life?
With breathtaking film and video captured around the world at eclipse events, Makepeace takes us on a tour of our world and our solar system – widening the perspective on our lives as only an eclipse chaser can.  Discover how the simple beauty and mystery of our world can open the door to a greater awareness of what we are and our place in the universe.
My Talk at the TEDx Toronto Conference from eclipseguy on Vimeo.
You Are The Universe from eclipseguy on Vimeo.