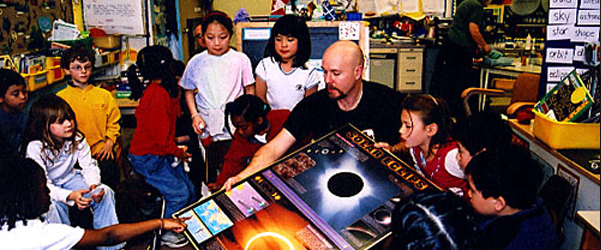 Eclipseguy in the Classroom
Hands-on workshops that teach students about the solar system
and the nature of eclipses.
My experience chasing eclipses around the world has given me a unique persepctive on the workings of the solar system and I enjoy bringing this view into the classroom and into the minds of young students, many of whom are starved for astronomy content due to restraints in school budgets.
To remedy this I create original, hands-on workshops tailored to fit the age and level of the students. Workshops run over one, two or three visits and can be modified in consulation with local school staff. With interactive models, use of multi-media, video and photography, students are given a once-in-a-lifetime chance to see the universe through the eyes of an eclipse chaser.
Pitchman for the Universe
In recent years I have also been invited on eclipse expeditions and to retreats as a motivational speaker. My talks approach eclipses from the personal, metaphysical point of view and put audiences at the centre of the universe. With strong audio/visual content – original eclipse films – and a unique exuberance for the subject matter, these are not your typical stuffy science lectures!
Want to book eclipseguy?
Teachers, educators, tour operators and event producers should contact me here: imoon@eclipseguy.com