Part 1
In June 2002, I joined eclipse chasers from around the world in Puerto Vallarta, Mexico, to observe a spectacular annular eclipse at sunset. Many of us had never met before – acquainted only by the internet. Still, hundreds of us descended on this sleepy resort town on the Pacific coast of Mexico for a few days to witness a once-in-a-lifetime event.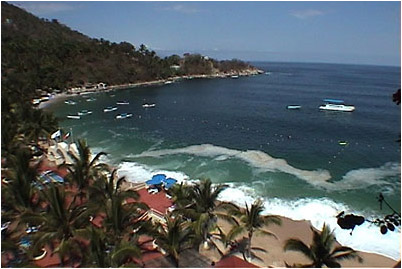 Choosing an exact observing site for any eclipse is serious business. Each time there are different factors to consider in time and space and weather in order maximize your chances of actually seeing the thing. One little cloud can add the perfect touch or erase the sun altogether. And you never know which it is going to be until you're there.
In the days prior to the eclipse, I teamed up with chasers Olivier "Klipsi" Staiger from Switzerland, and Daniel Fisher from Germany. We soon discovered that a tropical storm was brewing off the coast – right in our backyard. Satellite images confirmed that tropical storm Boris was staying put for eclipse day. Arghhh!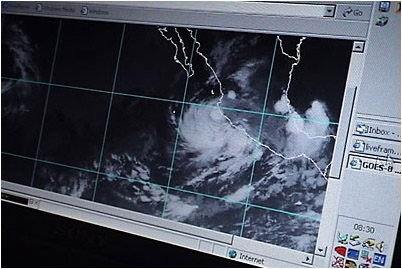 This was the worst possible development! Thick clouds, wind and rain are a nightmare come true! Nevertheless, observing sites were chosen and cameras, lenses and telescopes were packed. A hundred of some of the busiest eclipse chasers in the world, many of whom had never met before, gathered at the Hard Rock Cafe the night before to share our concerns about Boris and trade whatever secrets we had discovered. You might think that we see each other over and over again at eclipses. Sometimes we do. But with so many of us scattered around the world, and so many different locations to observe from along eclipse paths, mass gatherings of top chasers are relatively rare. It was a real pleasure to finally meet people I had known about for years. The next day we set out in a race, in dozens of splintered expeditions, to seek the Moon's anti-umbra. While many chose to drive into the path of the eclipse 50 kilometers south of Puerto Vallarta, I chose to go by sea. I had never seen an eclipse on the ocean and this was my chance to do it.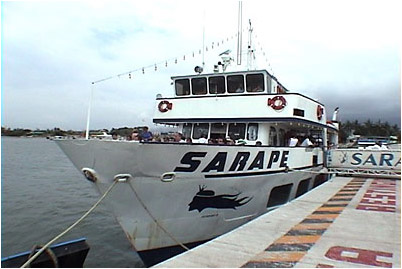 I joined 150 passengers, including Jay Pasachoff, the chair of the International Astronomical Union's Working Group on Eclipses, on the MS Serape bound for the waters off Cabo Corrientes. With tropical storm Boris still waving its ugly hand in the air, I believe we were the only organized team to attempt an observation by sea. For some it was well worth it. For others, a nightmare. Our poor vessel had never seen such stormy seas. During our harrowing three hour journey inside the northern limit of the eclipse path, over half of our passengers became extremely sea sick, retching and vomiting beyond capacity. Then the gift shop exploded – the incessant pitching and keeling of the boat becoming too intense. The glass display cases and stands snapped into shards sending souvenirs flying as we buckled under the pressure of the waves. To make things even worse, there was water crashing in the windows on the lower deck every time we hit hard. And we weren't even there yet. Still, the mayhem didn't stop Jay Pasachoff from presenting a great slide show about what we were hoping to see when we arrived. And I thought I had seen it all! By the time we entered the zone of annularity, people were so sick it was only the most keen of us paying any attention to what was happening. Great beds of clouds ruled the skies with only scattered breaks where the Sun was supposed to be. I was sure we would see partial phases in part but I was wrong. Holding on for dear life and juggling a 300ml lens (which was futile) we got our only treat of the trip. A brilliant tangerine diamond burst out of the clouds – growing like a diamond ring at third contact. Then another! It was both sides of annularity! Through a break in the clouds less than a quarter of a degree wide we observed the nine and three o'clock positions of the ring for a few seconds. Prayers went skyward for a reappearance on the horizon – but it was not meant to be. I know both Jay and I tried our best to record the event, but it was Daniel Fisher that got the best results with his video camera. The rest of us were just lucky to be alive.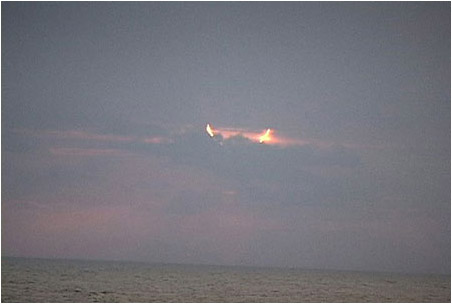 But we all agreed that we had set a new standard in qualifying for a successful eclipse chase – the shortest observation ever! The return journey was less rough and extremely subdued but I still had that post-eclipse glow. We dragged our soggy bottoms back into port about 11:30pm. I consider the chase to be a complete success and one of the most outrageous of my career. I loved it! But there are many who would beg to differ and many who would do it all again.