My 12th Solar Eclipse -
My 7th successful
Total Eclipse in a row -
My 6th continent on the chase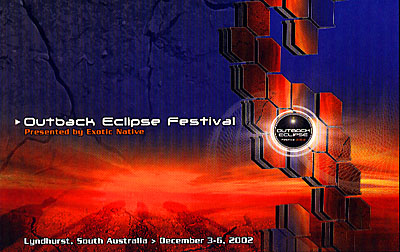 In the years prior to 2002, I never thought I was going to go on this chase. It was really far across the globe, totality was only going to be 30 seconds at best and I figured the chances of seeing the eclipse were minimal. I could opt to see the eclipse from Africa instead but I knew I was going to Zambia in 2001!
Then, in late December 2001, when most eclipse chasers were licking their wounds from having been clouded out in Costa Rica, I had a pre-Christmas dinner with a couple from Sydney, Australia. She was an old friend, he was a pilot. They offered to put me up and organize a private flight into the Outback to see this eclipse. I thought about it for 5 seconds and agreed to their terms!
Planning to execute this chase took the entire year. Even while I was in Puerto Vallarta chasing the annular eclipse at sea I had the Outback on my mind.
In mid-November, 2002, I flew to Sydney and spent a week getting to know the city. I had always wanted to visit Australia, and after the Olympics in 2000 the desire was even stronger.
The Sydney Opera House
Then I flew up to tropical North Queensland – to Port Douglas – to visit the Great Barrier Reef and to take part in one of my favourite activities – snorkelling!! This is one of the most exciting and beautiful parts of the world.
Our catamaran docks at the station on the Agincourt Reef, 90 minutes out from the coast. This shot was taken during my helicopter flight over the Reef.
By 30 November I was back in Sydney preparing for the once-in-a-lifetime experience of flying into the Outback to camp on a dusty airstrip. Being a devoted eclipse chaser takes me to places I would otherwise never go in a million years.
eclipseguy poses with the trusty Baron 58 used to get into the path of the total eclipse.